All About Friends Connect Foundation!
Friends Connect Foundation facilitates casual socials where teens, both with and without special needs, can connect and spend time together!
Participants with special needs are assigned to at least one volunteer "Buddy" on the day of an event based on similar interests. The pairing process ensures that both kids will have a good time together and develop a natural friendship!
Friends Connect Foundation event categories include fitness, self-expression, music, social and community service!
Friends Connect Foundation's mission is to provide opportunities for individuals with special needs to develop bonds with local peers. Our programs assist participants in strengthening their social skills, increasing their self-esteem, and promoting their sense of belonging within the community. While it may be challenging for individuals with special needs to develop connections with others, our organization strives to foster supportive environments where participants can easily form relationships with members of the community.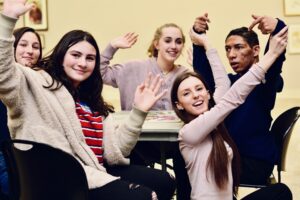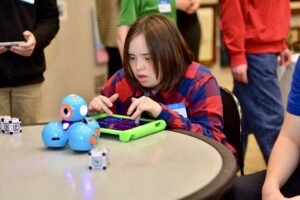 WHAT MAKES US UNIQUE
LONG TERM FRIENDSHIPS

We focus on the formation of long-term friendships between neurotypical and special needs individuals.

DESIGNED FOR AN UNDERSERVED POPULATION

Our programs are specifically designed for adolescents and teens with special needs.
PROGRAM EVALUATION

Our programs are developed and evaluated by a panel of various community members including volunteers, parents, health professionals, educators and instructors with special needs certifications.

CUSTOM-BUILT PRIORITY SYSTEM

As opposed to first-come, first-serve, we have a custom-built priority system that generates a roster of accepted participants based on the number of times a child has applied for, been accepted to, and attended events.
CONSISTENT SCHEDULE OF SERVICE HOURS

Volunteers who have required community service hours can rely on our programs as a consistent community service opportunity.

ENJOYABLE & MEANINGFUL

We develop meaningful and enjoyable programs from ideas suggested by our families, event evaluators, and volunteers.
OUR STORY
Friends Connect Foundation evolved from a small social group founded in 2017 by a sixteen-year-old in Middletown, New Jersey. Our young founder realized that her local teen peers with special needs continued to feel isolated, insecure and incapable of making friends despite the efforts being made to make society more supportive of these individuals. After researching local friendship-making opportunities, our founder soon realized that many existing nonprofits and programs had long waitlists, were strictly sports-oriented, tended to accept larger amounts of elementary-school-aged participants, or did not heavily emphasize the importance of forming long-term friendships. There was a need for better integration and support for adolescents with special needs. Our founder initiated a small social group that allowed for teens both, with and without special needs, to meet and spend time together. As interest in our program vastly increased, Friends Connect Foundation was formed as a New Jersey Nonprofit as a legal entity in Spring of 2018 to accommodate the increasing demand. Our primary goal is to have teens embrace and support each other in long-lasting friendships. We believe that all of our volunteers and participants have the potential to create a lasting impact in the community, to learn new skills, and to celebrate each other's differences.
Michael had a great time! On the ride home he said "friends" and had the biggest smile on his face that I have ever seen. The volunteers were enthusiastic and the activities were appropriate and fun. As a former special education teacher, I was very impressed with the ease with which everyone interacted with our children.
—Jodi (fitness program participant's mother)