Friends Connect Foundation facilitates casual socials where teens, both with and without special needs, can connect and spend time together!
We focus on creating friendships for children in middle school and high school, so we ask that our volunteers are at least 11 years old.
No experience or special skills are required for general volunteer positions! Volunteer training is held at every program's events.
Our programs make a real difference in the lives of our volunteers which is why many join us on a regular basis
The Volunteer Experience Includes...
General Volunteer Positions
New Friends, Consistent Schedule of Service Hours, Awesome Memories
Buddies
Get paired with a participant with special needs to be their host, guide and friend while helping them engage in fitness, self-expression, social, music or community service activities.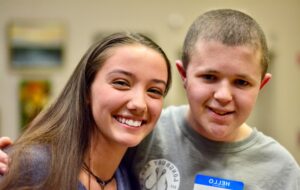 Event Support
Help with writing name tags, handing out event materials, preparing the activity spaces, directing buddy pairs to their groups, event surveillance, clean-up, etc.
Leadership Positions
Guide The Groups!
Team Leaders
Team Leaders are the staff on-site at each event who lead and organize volunteers, participants and event activities. Tasks include signing in volunteers, signing in participants, giving a volunteer training speech, pairing participants with volunteer buddies, assigning volunteers to different roles, and more. Orientation is held prior to program start dates.
Activity Instructors
We look for special needs certified instructors to lead groups in completing modified versions of a main activity. Instructor orientation is held prior to the program's launch date.
Administrative/Special Skills Positions
Please send resumes in confidence to info@friendsconnectfoundation.org
Photography / Videography
Help us capture the special moments between our special needs participants and their volunteer buddies at our events!
Job Listings and Internships
Check out our Indeed page for an updated list of available positions
Program Evaluators
We recruit volunteers, parents, health professionals, educators, and instructors with special needs certifications to voluntarily evaluate our programs.
Board of Directors Position Openings
Please send resumes in confidence to info@friendsconnectfoundation.org
Board of Directors
We look for professionals with fundraising, community outreach, financial, legal, medical, education, research, marketing or grant-writing expertise.
Frequently Asked Questions
Is there an age limit?
The only position with an age restriction are our "Buddy" and Leadership positions. We ask that our volunteers are between the ages of 11 and 20. Leadership positions require individuals who are at least 18 years of age. However, please view the Program Positions section of this page for more volunteer positions.
How do I sign up?
Please register as a volunteer in our database and click the appropriate response to the Yes/No buttons next to each event in the "Volunteering?" column.
Can I get service hours? How do I get the report?
Volunteers will find their attendance history when they view their volunteer profile in the database. First select the user you want service hours for by clicking "Edit/View Details". Then, scroll to the attendance history. Next, select Volunteer Hour PDF.
Can I still volunteer if I have little to no experience with special needs children?
YES, you can! Like many of our volunteers, it will be their first time working with special needs children as well. However, not to worry! Returning volunteers, staff, and Activity Leaders will be nearby to help and answer any questions that arise.
I don't live in New Jersey, can I still volunteer?
Our programs are presently hosted at various locations in New Jersey, but we welcome participants and volunteers that live out-of-state to join us!
Can I invite a friend to volunteer with me?
Of course! Please be sure to have all accompaniments register as a new volunteer in our database.
What should I bring/wear?
Dress appropriately for what the weather forecast predicts for the day of the event. However, no specific attire is needed unless otherwise stated under the event description. For spring or summer outdoor events, be sure to bring water and sunscreen!
Is food included?
Yes, but we can not accommodate dietary restrictions. Please plan accordingly.
I have another question not listed above!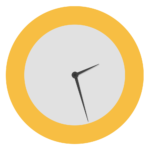 2 HOURS
Events are two hours long for volunteers as our set up and take down times are normally thirty minutes.
If a volunteer ever feels uncomfortable or unsafe, they are informed during volunteer training to tell an event staff member or instructor. The individual is welcome to be reassigned to a new participant for the remainder of the program.